It is not necessarily hard to find a good web hosting company, but it does require some patience and research. The hosting company you end up choosing can make or break your online business ventures, so it is essential not to end up with a bad package, regardless of how cheap it might seem. There are several very important things which make a good Web hosting package for a business.
Customer Service


Things can and do go wrong and, no matter how good the service may be, good customer service options are essential, particularly when it comes to business websites. Lack of customer service options is a common trait in the free or cheaper options and, for this reason, no business should ever choose a hosting company solely for the reasons of price. For a business Web hosting package, you should have access to fast and efficient support. There should also be multiple support options including email and phone support. Customer forums and online support via chat can also be useful.
Bandwidth


Bandwidth refers to the amount of traffic a website can handle. Larger websites and particularly those containing lots of images and other media will need to have more bandwidth. If you run out of bandwidth, you will either end up incurring extra costs or, at worst, having your website go off the air for a time. On the other hand, paying for more bandwidth than your website can possibly use is just a waste of money. To start with, you do not usually need much bandwidth but, as your website becomes more popular, you'll need to be able to easily upgrade your package. Another essential thing to consider with regards to bandwidth is what happens if you go over the bandwidth limit allocated to your site.
Disk Space


Disk space refers to the amount of storage required for storing the contents of your website. You can save costs on this by hosting images, videos and other large amounts of data on other sites. For example, many websites host downloads off-site while videos appearing on websites are often hosted for free on YouTube. When it comes to disk space, be sure that your hosting company allows you to easily purchase more as and when required.
Uptime


Uptime is the amount of time that your website will be on the air. Every web hosting company needs to close down its servers occasionally for maintenance. Some of the cheaper packages, however, have quite a low uptime. Uptime is typically measured in decimal "nines." An uptime of 99.999%, for example, means that your website will be offline for eight hours per year. This is considered a very good uptime. If your website is offline for 24 hours per year or more, however, it can become costly for your business, particularly if you have a lot of customers.
Extra Features


Other things to consider include the various extra features and services which come with some web hosting packages. Some companies offer various programming and database services which can be useful for businesses of certain types. Other companies offer hosting packages which come with a popular content management system pre installed. For example, people starting a WordPress blog may prefer to save time and effort by going for a hosting package which provides a website with one click WordPress installation. In this case, no complicated installation process, database configuration or coding is required.
Domain Names


It is often a good idea to register multiple domain names which all lead to the same website. Many companies deliberately register a domain name which is a common misspelling of their name. For example, if you type in "gooogle.com," you will still end up on Google. Registering multiple domain names with the same company can be a cost-effective solution since Web hosting companies often offer special promotions when registering multiple domains.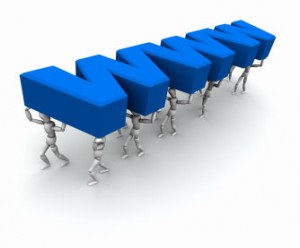 To find out more about the services offered by Digital Pacific including domain name registration, shared web hosting, VPS and dedicated servers visit our website at www.digitalpacific.com.au or call us on 1300 MY HOST.