Domain Names
REGISTER DOMAIN NAMES

GET YOUR DOMAIN TODAY
You can register your domain names right now using Digital Pacific secure, real-time domain name search and registration system. Or you may prefer to contact our Web Solutions Consultants and benefit from their knowledge and experience. Find out out how we can help you make your online business a success with a great online brand, an email or web hosting solution, a professionally designed web site, online marketing and more.
EARN
1 QANTAS POINT

FOR EVERY DOLLAR SPENT!What's this?
REGISTER ONLINE
Secure your domain names in under 2 minutes! Enter "yourcompanyname" in the domain name search box above and click on "Search". Our step-by-step registration wizard will take you through the rest!
REGISTER BY PHONE
We can help you secure your domain name registrations over the phone! Call us on 1300 MY HOST or 1300 694 678.
DOMAIN NAME PRICING
We offer a collection of different domain extensions ranging from country code top level domain names and global extensions. However, each type of domain has a different cost due to certain factors.
ALL THIS FOR FREE
WITH EVERY DOMAIN NAME REGISTRATION.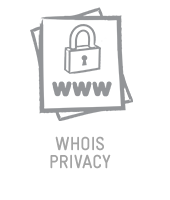 DOMAIN EXTENSIONS
FIND THE PERFECT .ending
A domain name extension plays an important role in the online visibility of your website. There are many different types of domain name extensions that are categorised based on their use or location. For example .com is a TLD (Top Level Domain) and .com.au is a ccTLD (Country Code Top Level Domain). Some domain name extensions require certain eligibility requirements to be met in order to register and maintain, such as the .com.au domain which requires an Australian Business Number.
GUIDE:
REGISTERING A DOMAIN NAME
STEP 1 –
CHOOSE A DOMAIN NAME FOR YOUR WEBSITE
Choosing the right domain name for your website or online business is a process that can require a lot of thought, patience and consideration. In many cases, your domain can and should simply be that of your company name, as it is a clear reflection of you and your business. However, that may not always be possible due to the availability of particular domain names which means you may need to decide on something else.
A good domain name needs to be easy to remember, easy to spell and generally the shorter it is, the better. The following should be taken into consideration when choosing your new domain:

Is it easy to remember?
In order to ensure that your customers and visitors can find and revisit your website often, a short and memorable domain name is important. Is it easy to spell?
Is your desired domain name easy to spell? Or does your business name contain unusual spelling? Making sure your domain name is easy to spell prevents the possibility of potential visitors and customers from going elsewhere because they are unable to correctly access your website. Is it relevant to your business or website?
Is it relevant your website, or portray the contents of it correctly?
For example: If your website is an information based site about your flower shop, a good domain might be "johnsflowershop.com.au" rather than something unrelated such as "johnsgeneralstore.com.au" Where is your primary market located?
Choosing the right domain name extension should be based on where your target market is located or where your primary business operation occurs. If your market is in Australia, a .com.au extension may be the best fit, whereas if the United Kingdom is your target audience, the .co.uk extension would be a better choice.
STEP 2 –
CHECK THE AVAILABILITY OF YOUR DOMAIN
Once you have decided on the domain name/web address that you would like to register, you will need to make a domain availability search to ensure that it is not currently registered. You can do this by visiting Digital Pacific's Domain Availability Tool.
STEP 3 –
CHOOSE THE REGISTRATION AND PAYMENT METHOD THAT SUITS YOU.
If the domain name that you have chosen is available, you may choose to purchase it either on it's own or with a hosting service at Digital Pacific. You can pay online via our billing portal or give our friendly sales team a call on 1300 MY HOST (694 678).
*Qantas Points are subject to Terms and Conditions