You've probably heard of the mighty CDN juggernaut of the internet, Cloudflare, even if you don't precisely know what it is. To sum it up, Cloudflare offers a huge variety of services (and their list keeps growing everyday), but their main bread and butter is offering a CDN service.
Having a 'fast' website should be very high on your list of priorities when starting your online presence, not least of all when it comes to SEO, as outlined in our previous article about SEO strategies.
What does Cloudflare do?
A huge number of Australian websites very wisely use this service for a number of reasons, which may include:
Using Cloudflare for their DNS hosting, rather than keeping their web hosting and DNS hosting on the same server. Keeping your web hosting and DNS hosting apart can be a wise move if keeping your website online at all times is critical to your business. If your web hosting provider suffers an extended outage, but you keep your DNS hosted elsewhere, you can quickly log in to your DNS hosting and redirect your domain to another server. Then, you just need to upload a backup of your website (which you should absolutely have!) to your temporary new server, and you're back in business without having to wait for the outage to be resolved.
Using Cloudflare to help mitigate DDOS attacks. There is no better player in the game for DDOS protection than Cloudflare. A DDOS attack is when a third party coordinates a huge amount of traffic towards your website. As Cloudflare stands between your website and the rest of the internet, it can detect and combat malicious traffic sent for this purpose.
Using Cloudflare for their primary product – thier content delivery network. This is generally done to help speed up a website and/or allow it to handle a larger volume of simultaneous traffic.
All 3 of the above things are offered by Cloudflare entirely for free, making it seem like the ideal service. However, if you're an Australian using Cloudflare primarily for the third reason listed above (as a CDN service), there's a good chance it's doing the opposite of what you may be wanting to achieve, and actually slowing down your website.
You see, bandwidth in Australia is bloody expensive, one of the most expensive bandwidth markets in the entire world – mostly due to our remote location, and in the case of Cloudflare, due to Telstra and Optus' refusal to allow Cloudflare to have an affordable point of presence here, thus
not only making things more expensive for us as consumers, but also ironically for themselves.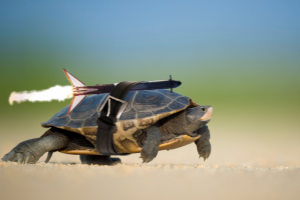 So how does Cloudflare slow down my website?
Let's say you have Australian-based web hosting and do not have Cloudflare activated. When a customer accesses your website, their computer will be loading your website from your web hosting company's data centre here in Australia – usually located in either Sydney or Melbourne for most major Australian web hosts.
This means your website would be relatively fast for Australian visitors, who won't have to load your website from very far away.
However, if you then activate Cloudflare on their free plan (or reportedly even their business plan), due to Telstra and Optus refusing to peer, Cloudflare are unable to store your website in any Australian data centres and instead, it must be loaded from another country with more affordable bandwidth – oftentimes this will be Singapore. So now, your website visitors must wait for your website to load from much further away – potentially making your website slower than it was to begin with.
With all of this in mind, Cloudflare still offers many huge upsides, so it may still be worth it to you to keep it activated so that you can benefit from their powerful DDOS protection, DNS hosting and ability to allow your website handle more traffic at once. If speed is your ultimate mission however – you'll possibly need to look at other alternative CDN services that offer points of presence in Australia. Though unfortunately, you probably won't be able to find this for free.
Stay tuned for our upcoming blog post as we look at alternative CDN options that will keep your Australian-hosted website running like lightning, without it breaking the bank!
If you are looking to start hosting with us, we have several plans available for all levels of hosting and as always, if you have any questions about this post or your services, simply call us on during business hours at 1300 694 678, or submit a ticket through One Panel and one of the crew will be in touch!